Build a virtual robot with your class and win
This blog was originally posted on the Twinkl Education Blog in May 2019.
Enter a challenge to design a high-tech augmented reality robot and test your class' coding ability. Here's how your school can enter a competition to win big prizes and have fun with our AR app.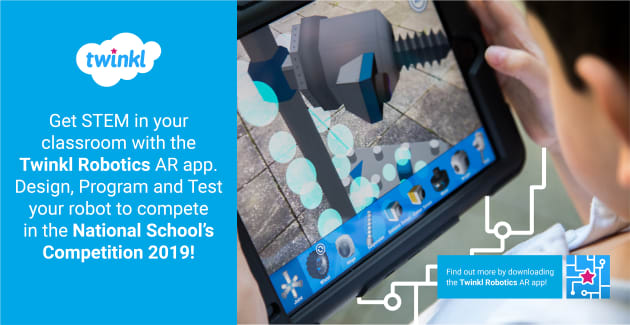 Are you looking to test your class' coding ability? Want a challenge that gets them excited about STEM?
We've launched a competition with the UK-RAS Network that tests your pupils' ability to code and problem-solve. Prove your class are the best at building virtual robots and you could win top prizes, such as an iPad, a robot dog or even an all-expense paid trip to London.
To take part in this FREE competition, follow the instructions below.
All you need is 5 minutes of preparation and access to the internet for your class.
The closing date is Sunday 16th June.
How to enter the competition
Head to https://www.twinkl.co.uk/robotics and 'Launch Web Version'.
Hit 'Start', and then 'Competition'.
Create a school account. (The password you use here will also be used by pupils, so use something simple). Further information can be found in the User Guide.
Once you've made a school account you will be shown your 'Admin login' details. Make a note or take a screenshot of these before you click 'ok' as you won't be shown them again. Please contact Twinkl Cares if you lose these details.
Now you can set up groups.
Create your groups by naming them, noting the age or average age of pupils and creating a password that you can easily share with them.
Top Tip: Groups can be a maximum of five pupils. Plan your groups at this stage, to make starting the competition quicker.
For more detailed instructions, check out the user guide.
Starting the Competition
Pupils will need:
Access to the Internet
School login (the email and password used during set up)
Group and password information
Click on 'Group login'.
Log in using your school login details (email and password used earlier).
Select a group and then use the password specific for that group.
Now they have access to design their robot. For more information, click the play button in the top right corner.
How to Play
There are five challenges, each with multiple levels of complexity:
Your mission? To design a robot for each challenge. You are given a choice of nine components to make each robot. Like any good coding challenge, you will need to use trial and error to complete each challenge and win the competition. More detailed information is in the user guide.
Key Features
The play button in the top right hand corner gives information about each of the challenges, launches the challenge (do this once you have designed your robot), and lets you enter your effort into the national competition. It's worth having a look at this before you begin making your robot for each challenge.
To make a robot, highlight the component you want to add, then simply click on a joint on your robot to add it. You can add as many components as you can fit on.
Clicking and holding on added components provides information and opens up new options (like direction of rotation and speed). You can even define events to make certain components trigger others!
Top Tip – consider any information on equipment and in the lab, for instance directional info (it's there for a reason!)
More comprehensive details about the programming of the robots can be found in the user guide.
Winning the Competition
To win the competition, you need to save your best attempts. You can only enter a robot when it is able to complete a challenge. From the play button, choose the statistics tab and then hit the 'Submit Challenge' button to enter.
You're looking to create the most efficient design for each challenge at the highest level.
Top Tip – It's best to complete the first three challenges at the highest level before moving on to the final 2 challenges.